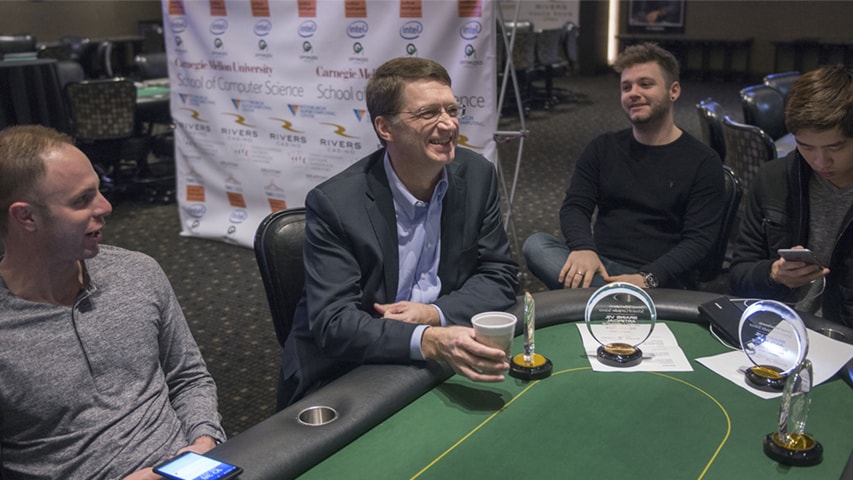 Tuomas Sandholm (center) and Ph.D. student Noam Brown (via CMU)
Congratulations to Liberatus the
new poker champ
. Liberatus, an AI program, beat several top-ranked players in heads-up (two player) no-limit Texas hold 'em.
For those unfamiliar with
Texas hold 'em
Two cards, known as the hole cards or hold cards, are dealt face down to each player, and then five community cards are dealt face up in three stages. The stages consist of a series of three cards ("the flop"), later an additional single card ("the turn") and a final card ("the river"). Each player seeks the best five card poker hand from the combination of the community cards and their own hole cards. Players have betting options to check, call, raise or fold. Rounds of betting take place before the flop is dealt, and after each subsequent deal.
Unlike the computers that defeated the best humans in chess, Jeopardy and go, Liberatus comes directly from academia, from Tuomas Sandholm and his student Noam Brown at Carnegie-Mellon.
Unlike chess and go, poker is a game of incomplete information in many forms.
Information both players have: the community cards already played.
Information only one player has: the hole card
Information neither player has: the community cards yet to be played.
Betting in poker plays the primary role of raising the stakes but betting can also signal what hole cards you have. Players can bluff (betting large amounts without a corresponding strong hand), trying to cause other players to misread the signal. There is no perfect play in poker, just a mixed equilibrium though we still don't know how to compute the equilibrium and even if we could we might deviate from the equilibrium to gain an advantage. Deviating also make you vulnerable.
All of this makes poker a far more complicated game for computers to tackle. But through persistence and new tools in machine learning, Sandholm and Brown have found success.
If history holds up, it won't be long before we have champion-caliber poker apps on our phones. Will we see cheating like has been
happening in chess
? Will online poker sites just disappear?
What is the next great game to fall to computers? I'm guessing NASCAR.